04451 Generac Guardian Ultra Source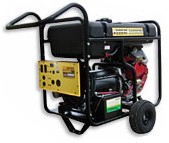 If you're not sure what each type of kit means, click on the Quick Help Links to the left for more details.
Only the Type 1 & 3 Kits are available for this generator. Clicking on the Yes link will allow you that kit to your shopping cart.
Accessories can be ordered using this link: ACCESSORIES
Generac Guardian Ultra Source 12500 GN760 Engine
Note: This engine can also have a 2 barrel carburetor. A visual inspection of the carburetor to see if the generator has the single or two barrel carburetor is required. The single barrel carburetor is shown below. If the generator has the 2 barrel carburetor the kit is the same as the 04582 with the GN990 engine. Use this link to navigate to the GN990 page.
Though we have had the GN760 single barrel carburetor in our shop for conversion,
we have not had the entire generator. One customer sent us the carburetor and air horn assembly and we matched one of our existing adapters to the carburetor for bi-fuel and tri-fuel use. The adapter has not been tested on an actual generator so it may or may not physically fit in the engine package (take 1-1/4" of space). If you would like to try the multi-fuel adapter you can order the kit and as always we offer a money back guarantee. If it will not work you can send it back for a refund.
If you would like to order a Type 2 or Type 4 Kit to try, here are the links:
Bi-fuel Type 2 High Pressure Propane and Gasoline Kit
Tri-fuel Type 4 Low Pressure Propane, Natural Gas and Gasoline Kit
$267
ORDERING & QUESTIONS
Use your credit card and safely and securely order on-line. Or call our office toll free at :1-800-553-5608
Monday thru Friday
9:00 am - 4:30 pm
Eastern Time.
You can place your order over the phone if you feel more comfortable doing that or if you would like to speak with a company representative to answer any further questions you may have.
Please check our BASIC INFO page first. 1-800-553-5608