WHAT KIT DO I NEED?

WHY CHOOSE MOTOR SNORKEL?

Motor Snorkel™ is the patented, revolutionary, device that changes your gasoline only generator into a hybrid, tri-fuel machine.
After installing US Carburetion's Motor Snorkel™ Generator Conversion Kit, your generator will be able to run on natural gas, propane or gasoline (sometimes called a tri-fuel generator conversion).

The Motor Snorkel™ Conversion Kit makes the adapting of an engine to propane and natural gas very simple. For decades, the most common way to install a conversion kit consisted of an adapter block that mounted between the carburetor and the air cleaner. Installing the propane generator or natural gas generator adapter required modifying the existing carburetor studs, crank case vent tubes and other supports. Worst of all, most generators do not have enough clearance between the cover of the air cleaner and the frame to allow for this extra spacing so the frame support had to be cut away. And most enclosed units are not even considered for this process for obvious reasons.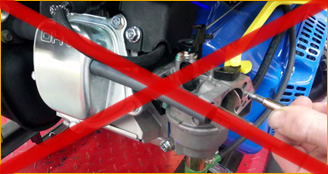 NO!
Adding Stud Extenders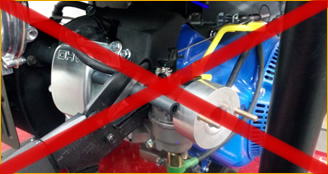 NO!
Cutting the Crank Case Tube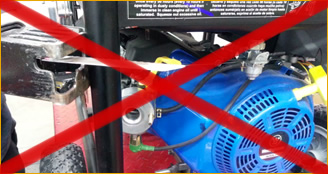 NO!
Cutting the Frame
The innovative feature of the US Carburetion Motor Snorkel™ Conversion Kit is the ingenious method of passing the fuel through the gasket portion of the device. Fuel is then channeled to the proper area in the carburetor so that the original carburetor can control the fuel mixture just the same as running on gasoline. Another amazing feature is the specifically designed probe that passes by the choke plate. A unique crush-proof yet flexible material was developed to allow the choke to be used on gasoline so that the engine can operate normally on gasoline without having to remove the Motor Snorkel™.

The Motor Snorkel™ Conversion Kit and other kits from US Carburetion are the best way to convert your existing gasoline generator into a propane generator, natural gas generator or a tri-fuel generator. Professionals NEVER rely on gasoline as the primary fuel source for their backup generators because of its limited shelf-life and the tendency for this commodity to be hoarded during emergencies and disasters. Now that you have invested in a backup generator, make sure that it runs when you most need it by converting it to use propane, natural gas or even convert it to use all three of the primary fuels (propane, natural gas, gasoline).
100% MONEY BACK GUARANTEE

We will not rest until you are successfully up and running with your generator.
Our Motor Snorkel™ Conversion Kits are guaranteed to fit your generator or your money back, no questions asked. Simply provide us with your generator model number and the other requested details when checking out and we will ensure that the correct Motor Snorkel™ conversion kit is supplied for your generator.
*All generator sales are final unless there is a factory defect, in which case warranty will apply.
EASY INSTALLATION

Motor Snorkel™ Conversion Kits Install In Three Easy Steps
No matter if you have a Briggs and Stratton engine on your generator or any other type of generator, we have a Motor Snorkel™ Conversion Kit to help with your do-it-yourself hybrid generator conversion. With 3 easy steps to install (depending on your fuel choice additional accessories may be required - see our accessories section for more details), our Conversion Kit will have your hybrid generator running in minutes. No cutting the frame or crank case, No need for stud extenders, and you can still use Gasoline in your generator when needed!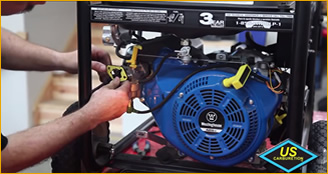 Step 1:
Slide Motor Snorkel™ just like a gasket over
the studs on your carburetor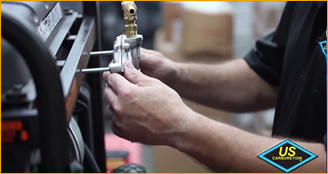 Step 2:
Mount the regulator to your generator using
the included template and hardware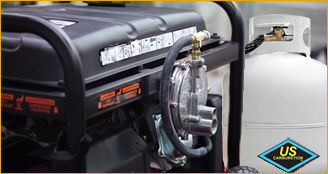 Step 3:
Connect a gas supply
WHAT ACCESSORIES DO I NEED?

From fittings, to shut off valves to repair and remote start kits, we have accessories to meet your needs.
HOW DO I BUY MOTOR SNORKEL?

Ready to convert your generator to a hybrid, tri-fuel machine? Great! The best place to start is our Kit Finder below
Kit Finder Content/Finder
What primary fuel do you plan on using? Please take time to look over this page. It should answer most of your questions. Please click on any unfamiliar word to learn more about that term. Use your back button to return to this page.
Propane cylinders are TANK pressure and what regulator "you" install at the cylinder or tank determines if high or low pressure comes out of the regulator.
Do you also want the option of using gasoline? Propane , Natural Gas
Do you also want the option of using gasoline? High Pressure , Low Pressure
Order the Type 1 Kit or step down the pressure to low pressure and use a Type A Kit
Order the Type 2 Kit or step down the pressure to low pressure and use a Type C Kit
ORDERING & QUESTIONS
Use your credit card and safely and securely order on-line. Or call our office toll free at :1-800-553-5608
Monday thru Friday
9:00 am - 4:30 pm
Eastern Time.
You can place your order over the phone if you feel more comfortable doing that or if you would like to speak with a company representative to answer any further questions you may have.
Please check our BASIC INFO page first. 1-800-553-5608